Town Center-Virginia Beach Kiwanis Club
by Nancy Pindur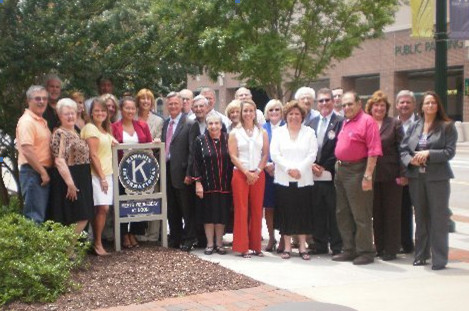 The Town Center Kiwais Club-Virginia Beach (members shown above) continues at a fast pace in spite of the Summer and the amazing heat wave we are experiencing! Members fill up our meeting room every Wednesday to the point where we may have to expand the space. We now have 48 members and more than have seem to attend regularly.
Our first event this month was the installation of the officers of our Action Club for People First on Saturday, July 10. Mike Brooks and Nancy Pindur, as well as our President, Scott Brinkman and several other members attended the event.
The following Monday, July 12, 20 members attended our monthly social at the Texas Roadhouse restaurant in Virginia Beach. They sponsor several of our fund raising events with food and coupons. We had a wonderful time.
On Saturday, July 17, one of our members, Toni Philpott invited Club members to a Sky Box for the Tides Baseball game. Another event that many enjoyed.
On July 20, members Ronica McGovern and Nancy Pindur read to children for REACH, one of our charities.
We presented checks this month to the director of our Action Club, and to the director of Equikids for their respective charities.
Several members attended the dedication of the Union Mission Ministries new Community Resource Center and Retail Training Center on July 30. Members of our Club, formerly members of the Suburban Club, had donated a wing to this facility.
Amidst all these activities, our committees are busy planning our Neptune Fest participation for September 24 -26, and our Taste of Town Center 5K race, November 6th. I am out of breath just reporting all these things!